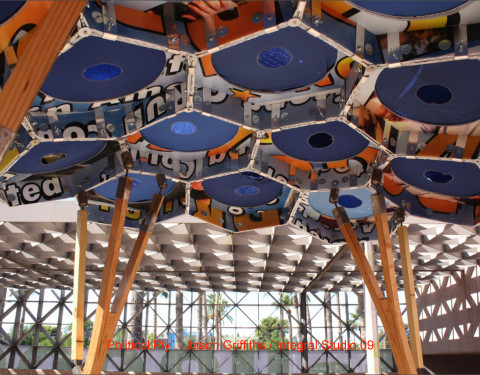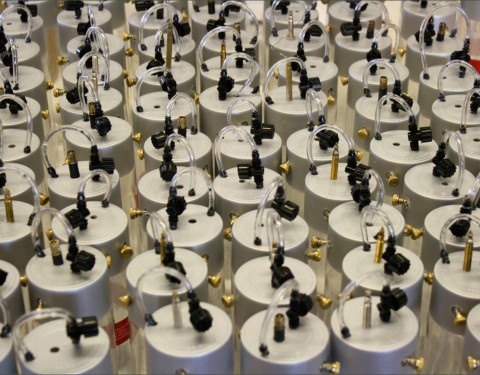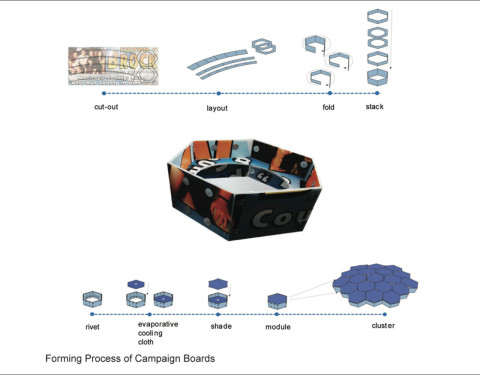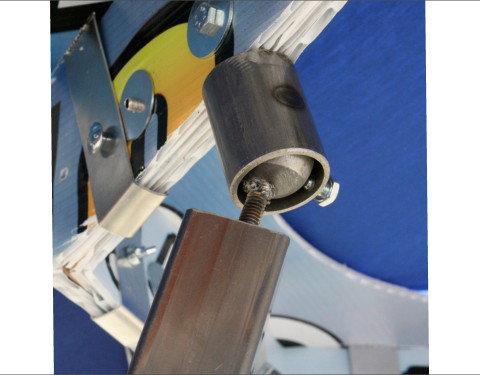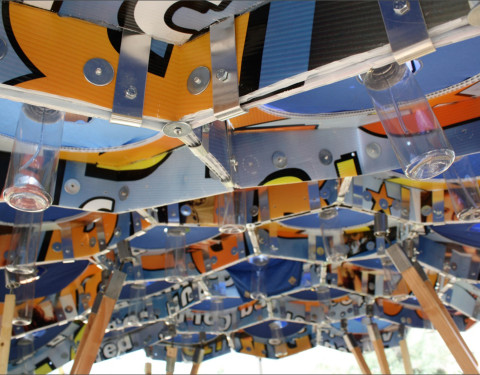 "Political Ply" explores methods of re-purposing existing materials (in this case corrugated polypropylene campaign board)  in the formation of a temporary arid-zone shade structure. The project is a modular shade structure that is designed for arid zone environments and incorporates an evaporative cooling mechanism. This approach extends the design life cycle of a material which would normally be discarded after its original purpose was fulfilled.
The structure is composed of hexagons, a shape which can be tessellated, while maintaining strength in all directions. This shape also allows for a modular approach to building the structure. Each cell is a self contained cooling structural component with a shading cloth, cooling cloth, and unique hand-pumped mister system.
Repurposed "Voss" water bottles with bicycle valves and misting heads that are hand pumped to provide a distributed layer of moister to the evaporative cooling surface.
Wikking fabrics developed from organic cotton and designed to form an evaporative cooling surface within each cell.
Re-purposing of dimensional lumber that was cut into flexible strips to form glu-lam supports. These strips were initially tested in terms of their bend tolerances against an desired profile of a three pronged support that transferred the forces of the roof structure to the ground.
In addition to these aspects of material adaptation the project is also designed for disassembly and transportation to new locations. Each hexagonal cell is tapered to allow cells to stack together for convenient transportation. All other components then fit within the void at the center of this stack to further minimize the travel efficiency.
Awards: First Place – AA Fabrication Award 2009 + EPA West Coast Green
Project:  ASU Poly Campus / ASU Art Museum shade and cooling structure.
Clients:  ASU Poly Campus Earth Day Festival Committee.
Design Team:  Taylor Ahlmark, Susan C Franco, Miljan Glogovac, Hussam Khoury, Brian Joon Lee, Eric Stewart, Jamison Vaughn.