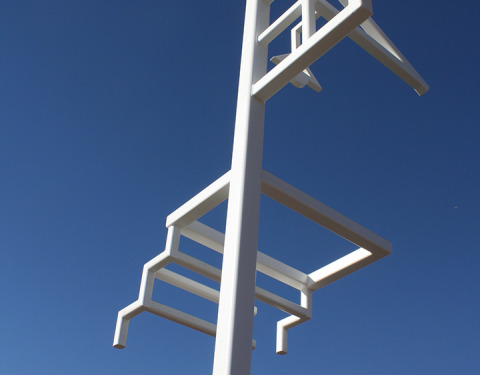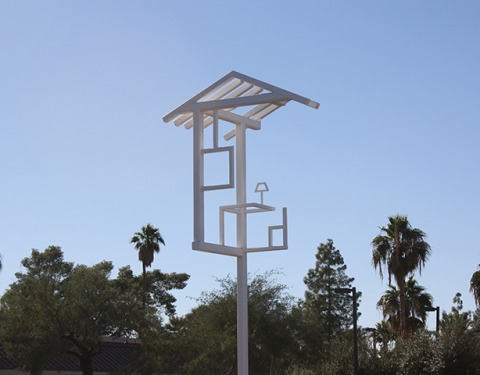 Median Home – University Avenue, Tempe, AZ.
"Median Home" is a Public Art project commissioned by Tempe Arts.
Both sculptures place elements of a small home above a median within the center of University Avenue. This positioning provides views from the street that invite people to consider the importance of residential life within the city. They play a part in Tempe's move towards greater density along with the landscaping of medians and the inclusion of cycle paths. By placing the small house in the street I am suggesting that the road must give way to urban life.
Densification means looking for niches and small sites within the city to inhabit. Median Home is a sign of this intention. However the room is incomplete and is experienced in pieces to suggest that while the elements of density are in process full density has still not been achieved.
Both sculptures have a "sign-like" quality that responds in different ways to their position along University Avenue. The sculpture between Priest and Margo provides an entrance-like image with steps, a front door and a light that reflects its position at the entrance to this part of the city. The sculpture between Wilson and Farmer reflects the more residential nature of the locality with its room-like qualities, desk, lamp and chair as simple elements of a small space within the home.